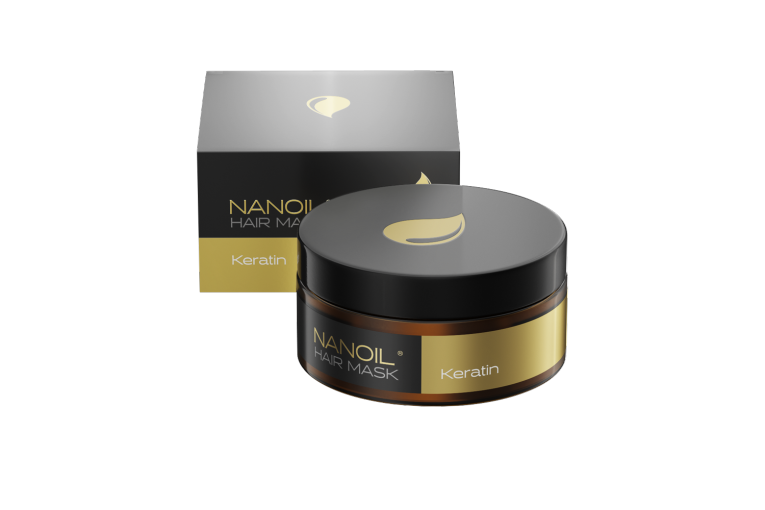 Do you know everything about keratin? I'm sure you've already heard that it's a hair-building protein which perfectly repairs and enhances the hair structure, it is the base of keratin smoothing treatment, plus the best hair masks contain… keratin! There are still some facts to be explained, though. It turns out that just one form of keratin gives great effects when used at home and there's just one mask that beats all others. See the 2020 hair-care stunner!
Nanoil Keratin Hair Mask for the commercial hair look
When you think about lovely hair, you surely picture a shampoo or mask commercial featuring super-glossy, long, healthy tresses that shine with every motion and fall gracefully on the shoulders. Does this type of hair exist only in commercials? Not necessarily.
Just think about the stunning shine and vitality that your hairdresser is able to magic up. In-salon treatments are pricey but you can achieve this effect at home with a professional home-use hair mask from Nanoil. It gives you spectacular results every time. Not convinced yet? Think about the effortless use: just a quarter once a week is enough to get plenty of benefits.
What benefits does the Nanoil Keratin Hair Mask give you?
Your hair receives a boost of the most powerful repairing substances – full reconstruction thanks to the best ingredients known as keratin and panthenol (provitamin B5).
This duo won't leave your hair unassisted. Keratin and panthenol have a similar effect and they join forces to give you the most effective repair therapy, hydrating the hair and making it shiny. After the very first use, hair is prettier, smoother, shinier and softer. The components are ready to build into the hair structure to keep it safe, boost shine and volume, and rebuild the strands.
Nanoil Keratin Mask: Benefits for hair
perfectly nourished, lovely-looking tresses
stronger, fuller, thicker hair
resilience, bounce, vitality
optimal hydration
healthy hair throughout the length
no more breakage or dryness
How to use the Nanoil Keratin Hair Mask?
Have you used masks or treatments that required you to leave the product in for hours, wrap a towel around the head and warm it up with a dryer? This isn't essential with the Nanoil Mask because the hydrolyzed keratin particles reach the deepest parts of hair easily – heat isn't necessary to make them penetrate the hair. Keratin from Nanoil ensures top-notch hair care.
The mask is very nice to use: smooth it over washed, damp tresses. Wash it out after 20 minutes and style the hair. Easy application for the commercial hair look!
Would you like to learn more about this mask and get it for the best price? Pop into www.nanoil.us/keratin-hair-mask