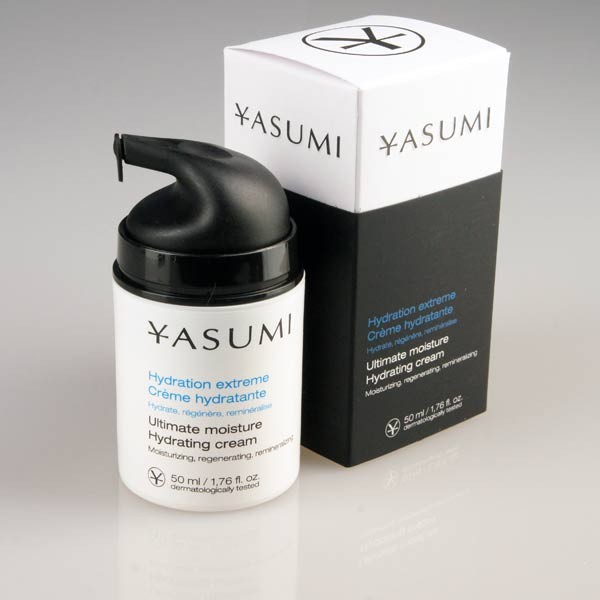 Intensive moisturising, nourishing and regenerating face cream from Yasumi is a product dedicated for beauty parlours and SPAs, but for a while now is available in retail sale. How does Ultimate Moisture Hydrating Cream work?
Should you invest in professional treatment with intensive moisturising Yasumi products?
Ultimate Moisture Hydrating Cream
Intensive moisturising cream from Yasumi is an everyday skin care product, which not only moisturises, but also regenerates and remineralises skin. Ultimate Moisture Hydrating Cream protects sensitive cells of epidermis against harmful external factors, and all of that thanks to advanced active ingredients complex with high content of vitamins and minerals. Right hydration level is being restored after few days use of Ultimate Moisture Hydrating Cream (also as a make-up base).
Complex face skin care
Intensive moisturising face cream Ultimate Moisture Hydrating Cream from Yasumi has multidimensional influence on every skin type, however it counts needs of dry skin with first signs of ageing.
1. Provides optimal moisture and nourishment.
2. Protects skin against water loss.
3. Smoothers and softens face skin.
4. Can be used as a make-up base.
Active ingredients for best skin care
Moisturising face cream from Yasumi is based on marine collagen and chitosan, which ensure proper skin moisture and prevent water loss of cells. Besides, restoration of right moist, Ultimate Moisture Hydrating Cream accelerates regeneration of epidermis. Beneficial vitamin E in form of tocopherol from natural vegetable oils is a strong antioxidant – besides restoration – slower down ageing processes and strengthens skin. Proper moisture is also provided by sodium PCA, i.e. natural moisturiser present in skin.
Yasumi Ultimate Moisture Hydrating Cream consists of sea algae, which are responsible for proper skin mineralisation. Rich in minerals (e.g. magnesium, calcium, iodine and zinc) sea algae ensure right epidermis processes by delivering it with necessary nourishing ingredients. Yasumi face cream was additionally enriched with wheat sprout oil, which is source of all necessary fatty acids and thanks to it nourishes, moisturises, and makes skin elastic and smoother.