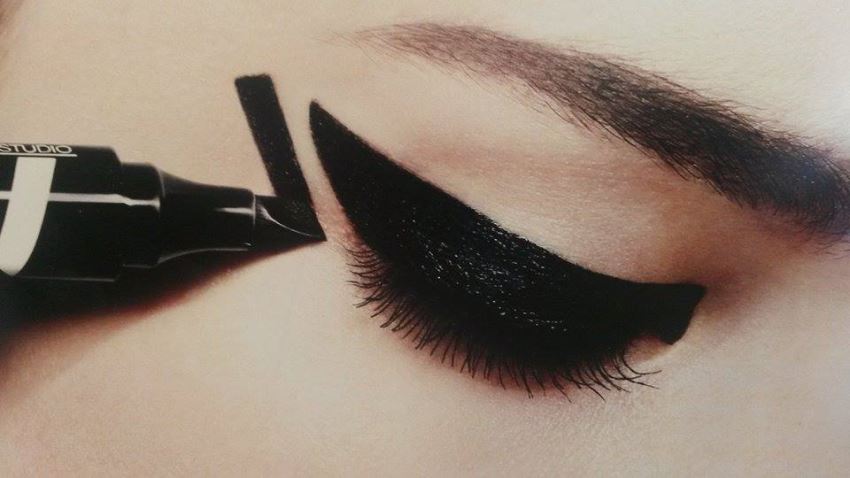 Eyeliner application can be quite a challenge for some of us. Especially, for those who never before used eyeliner. Fortunately, Maybelline comes to the rescue, to the make-up beginners and professional make-up artists with Maybelline Master Graphic – eyeliner in felt-tip pen.
Maybelline Master Graphic reminds of felt-tip pen: it has cut at an angle tip, gives expressive colour and has a tip to protect it from drying.
With one smooth move of Maybelline eyeliner we'll create a line in any shape. By placing the tip in one way or another, we'll draw thin or thick line, straight or so called cat's eye. If you have any artistic abilities then usage of this eyeliner shouldn't be any problem.
Maybelline Master Graphic eyeliner has deep black colour and dries quickly. You should be careful though, so the eyeliner wouldn't impress on the eyelid. That is way before application of the eyeliner you should apply eyeshadow or make-up base. Maybelline Master Graphic eyeliner stays on the skin for a long time, doesn't rub off and colour isn't fading. It is perfect complement for the smokey eye make-up or nude make-up.
How should you use Maybelline Master Graphic? After application of the make-up base and eyeshadow you can proceed with eyeliner. Support the elbow against flat surface and place your hand on the cheek. Draw a line as close as possible to your eyelashes with one smooth movement. If it's your first encounter with the eyeliner, then start with drawing few spots along the lashes line, in a place where the line will go and then connect them with each other. To draw a "tail" direct the line upwards to optically widen the eyes; on the external corner place adhesive tape or a teaspoon. This trick will make the eye make-up much easier. You don't have any idea what line to draw? This year very popular are thick lines ended with dot. Classical line will look good on every eye. The choice is yours!