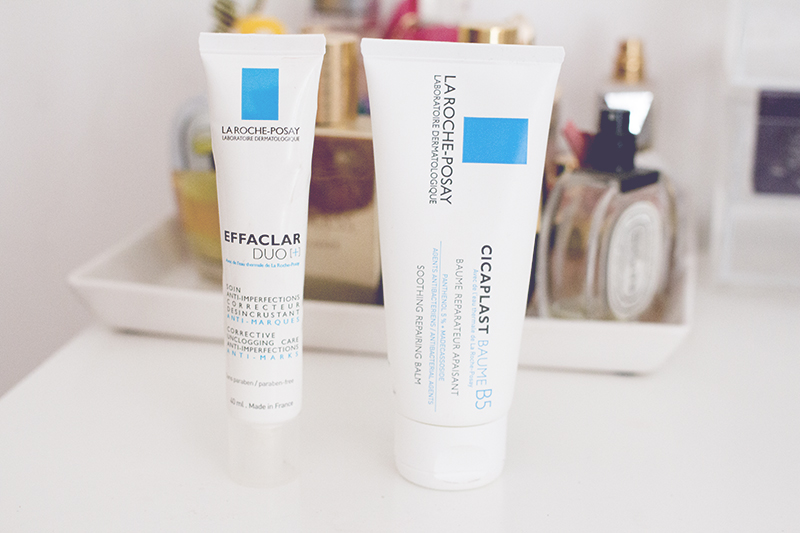 Effaclar Duo cream from La Roche – Posay is recommended for acne and oily skin with blackheads, clogged pores and imperfections. It is a dermocosmetic, which means that its properties and composition slightly differ from standard cosmetics. Pharmaceutical products come under strict dermatological control, contain more medical substances and are very effective. Such products are additionally hypo-allergic and do not consist of parabens.
Effaclar Duo cream supports elimination of imperfection such as blackheads and discolourations.
It limits sebum excess, regulates sebaceous glands and reduces shine. What is more, La Roche – Posay cosmetic can be helpful in anti-acne treatment and additionally support medication subscribed by the dermatologist. Effaclar Duo cream can come handy in skin care after chemical exfoliants.
How to apply La Roche – Posay cream? For nourishing ingredients to absorb and get to deeper skin layers you need to start with make-up removal. Exfoliation and face mask can also turn out to be beneficial. Effaclar Duo should be applied in the evening and morning on the face skin. Because of its delicate consistency it can replace make-up base.
Thanks to number of nourishing ingredients Effaclar Duo from La Roche – Posey takes good care of the face skin. In this product we will find: glycerine, silicon and zinc. For elimination of discolourations responsible are ceramides and for exfoliation and pollution removal responsible are – salicylic and lactic acid.
Effaclar Duo from La Roche – Posay is placed in white 40 ml tube. The nozzle tube is perfect for the spot imperfection removal. In this products line we will also find tightening pores tonic, cleansing gel, spot cream for inflammation and nourishing cream for oily skin.