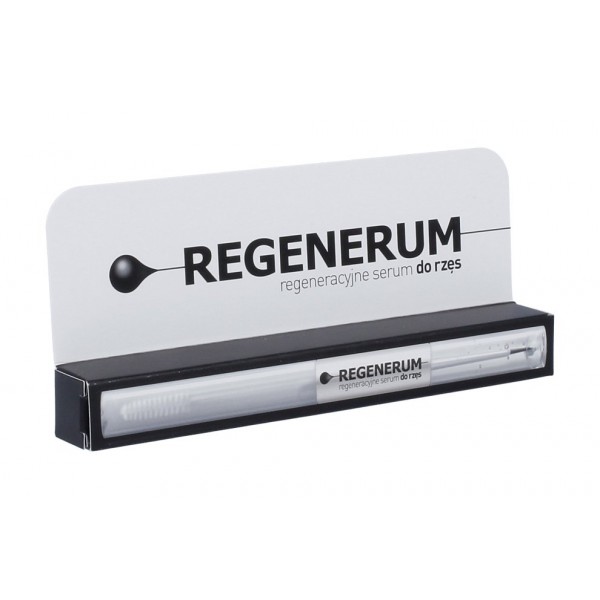 Women dream about beautiful and expressive look, that is why they so often acquire products for making lashes pop. Beautiful eye frame can be achieved with natural look if only lashes will be well nourished. Lashes care shouldn't be limited to right make-up removal, which is also very important.
For strengthening of lashes you can use regenerative serum e.g. REGENERUM.
About the product:
REGENERUM regenerative lashes serum is a product developed for fine, brittle and fragile lashes. Regenerative treatment with lashes serum is a way for nourished, healthy, strong and more expressive lashes in just few weeks. Surprisingly intensive REGENERUM treatment is an effect confirmed by 96% of pleased women who tried the product.
Composition of serum:
Effects offered by regenerative lashes serum REGENERUM are a result of formula based on natural ingredients, which ensures deep nourishment. In REGENERUM serum we will find six active ingredients.
Junebug extract – enriched with Junebug extract serum provides soothing and calming properties for the irritated skin of eyelids and eyes area.
Aloe vera gel and vitamin E – they have strengthening and elasticity properties, but also ensure right level of hydration thanks to aloe vera gel extract and youth vitamin.
Matrykines and D-panthenol – complementary effects for serum composition are peptides and provitamin B5, which stimulate proliferating of cells in lashes and reduces lashes loss, but also provides optimal anchoring.
Lipooligopeptides – stimulate lashes' bulbs to keratin production, i.e. main building blocks of hair, thanks to well absorbing lipooligopeptides, which cause thickening of lashes and makes them more dense.
How does it work:
Regenerative lashes serum REGENERUM is a double formula, that ensures lashes regeneration by not only stimulation of bulbs, but also by influencing lashes on their entire length. REGENERUM provides us with double applicator and two specially designed formulations, which are expected to have complex influence on lashes.
Serum eyeliner – contains nourishing lipooligopeptides and soothing Junebug extract, so application on lashes line stimulates bulbs to more effective work and thickens lashes.
Serum with a brush – consist of strengthening peptides and provitamin B5, but also moisturising aloe vera gel and vitamins, which provide flexibility and length, while eliminating problem of lashes loss.