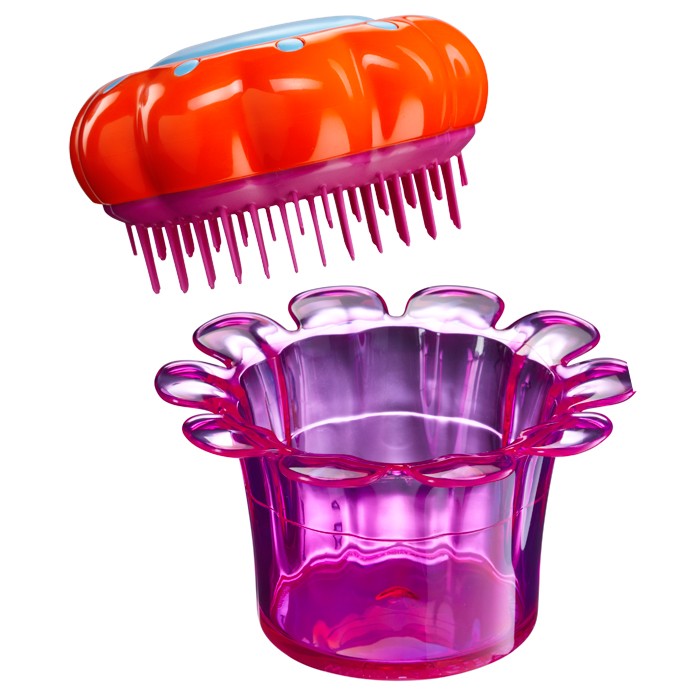 Tangle Teezer is a British classic, which is in almost every vanity bag of almost every woman. It is a handy and effective hair brush, which makes brushing much easier and stimulates roots with its original and thought through shape. Designed by British hair stylist hair brush lately get three new variants – waterproof Tangle Teezer, with handgrip and for children.
While designing his first Tangle Teezer, Shaun Pulfrey didn't think that it will become world wide best-seller.
What are the benefits of Tangle Teezer? This iconic brush prevents tangling and electrifying of hair, perfectly brushes out and thanks to thought-out shape prevents breakage, damage, pulling out and split ends. Additionally it makes hair silky smooth and glossy while stimulating scalp with bristle massage. Big plus of Tangle Teezer is also effortlessness with which we can clean the brush and its ergonomic shape.
With the beginning of the year came also novelties from Tangle Teezer. Let us introduce to you three new versions of Tangle Teezer, which preserve the same properties of traditional brush, but also fit determined needs of their users.
TANGLE TEEZER WITH A HANDGRIP
Tangle Teezer with a handgrip is a bow towards people who want to use this iconic brush, but prefer traditional handgrip and cannot get used to unusual shape of Tangle Teezer. Handgrip will make brushing hair prone to tangling easier, but will also make possible simultaneous stylisation with blow-drier and Tangle Teezer.
TANGLE TEEZER AQUA SPLASH
Tangle Teezer in Aqua Splash variant makes possible use of brush even under the shower, over the sea, on the swimming pool or SPA. Tangle Teezer Aqua Splash is absolutely waterproof brush with ergonomic shape fitting head's shape.
TANGLE TEEZER FOR CHILDREN
Mums know, how problematic is brushing children's hair. Tangle Teezer Magic Flowerpot is a hair brush designed for children, so brushing would be easy and pleasurable for the young ones. Hair brush in shape of flower is small, handy and placed on spacial holder, which can also be a container for e.g. hairgrips.