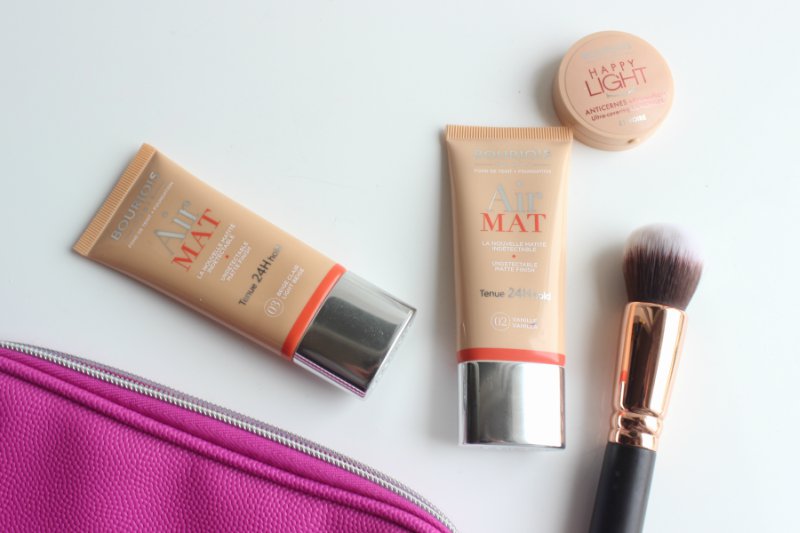 We all know that foundation is a mandatory cosmetic. No make-up can work without it. Obviously, you need to know what shade to choose and how to apply it correctly. Fortunately, Bourjois launched foundation, which causes no problems. Why? Because Air Mat is light as air.
Air Mat foundation from Bourjois is recommended for every skin type.
It consist of very delicate consistency, which makes it easy in distribution on the face, does not leaves smudges and does not create mask effect. It was clinically tested, so it shouldn't cause skin irritations or acne; also prevents blackheads. Air Mat foundation from Bourjois stays up to 24h, doesn't darken or wear down. To its main properties we can include skin mattyfing effect; and it does it very well. Additionally, this cosmetic camouflages imperfections, equalises skin complexion and smoothers skin. It is invisible on the skin, allows it to breath and function properly. What is more, Air Mat from Bourjois contains SPF 10, zinc and silicon, which sooth skin irritations, reduce excess sebum and prevent early ageing. In chemist's shops we can get it in several shades: Ivoire Rose, Vanille, Beige Clair, Beige, Beige Dore and Hale Clair.
How to apply Air Mat foundation from Bourjois and how to match correct shade? Before you get to make-up, you need to know, which shade matches your skin complexion. Forget about choosing product by looking at it on your computer screen. It won't work, believe me. Administer foundation on the jaw and then wait for it to absorb. If the colour vanishes ten it means that it is a perfect shade for you. And how to apply it? Small amount of the Air Mat apply on the hand to warm it – it'll become more plastic. Then with a foundation brush "stamp" the face and make sure that foundation will absorb. For application you can also use sponge or egg make-up sponge. The cover depends on applied layers.