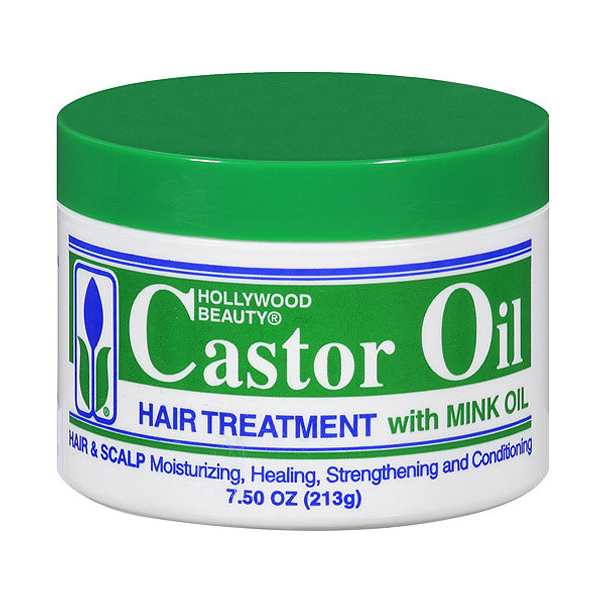 Castor Oil is a product designed for hair and scalp nourishment that was launched on American market thanks to Hollywood Beauty Beverly Hills brand.
Action of the product focuses mainly on instant acceleration of hair growth as well as relief of irritations, moisturization and regeneration.
Price: $9 / 213 g
Composition and working:
Hollywood Castor Oil is a product rich in natural plant oils, such as castor oil, sweet almond oil, jojoba oil, safflower oil as well as natural coca butter. Additionally, the composition is enriched with 'vitamin of youth' – preventing hair aging E vitamin. Another worth mentioning ingredient is lanoline (a natural wax that protects wool and skin of sheep) which enhances lipid barrier of scalp.
Castor oil – strengthens and makes hair denser, nourishes scalp and stimulates hair roots which has noticeable effects on hair growth.
Almond oil – boosts blood circulation of scalp, strengthens hair roots, protects against destructive working of external factors and nourishes due to A and E vitamins.
Jojoba oil – nourishes scalp, moisturizes, protects, regenerates and relieves irritations of scalp. Such manner of working is possible due to A, E and F vitamins, unsaturated fatty acids as well as fibre.
Safflower oil – deeply moisturizes and brings easiness thanks to high concentration of polyunsaturated Omega-6 acids.
Coca butter – perfectly moisturizes, cares, smooths and softens both scalp and hair. Furthermore, coca butter has anti-oxidant working.
The greatest controversies surround mink fat oil. The producer ensures that the substance is obtained from live animals which means unequivocally that no creatures are killed for the cosmetic production purposes. The truth is, mink oil is listed as one of the last ingredients so its concentration in Hollywood Castor Oil is scarce. In general, mink oil has moisturizing, softening and smoothing features.
Formula:
CONSISTENCY – Hollywood Castor Oil, unlikely to other oily preparations, has very dense consistency which makes it difficult to distribute the product evenly. Its texture can be compared to Vaseline. Only after warming it up, it becomes possible to apply the product. Although Hollywood Castor Oil is absorbed fast, it may cause great damages if applied inappropriately.
FRAGRANCE – Castor Oil by Hollywood Beauty has very delicate, fresh and creamy scent that makes the application pleasant.
EFFICIENCY – Due to the manner of application, this American complex of oils known as Castor Oil is a very efficient product. As mentioned above, the oil has to be put on scalp only. Small amount of the cosmetic is enough to provide hair roots with necessary ingredients.
Manner of use:
American oil complex of Castor Oil is a product that should be applied on scalp only. It has to be massaged into either dry or damp scalp. The product must not be applied on hair. Basically, it can be left on overnight or just put on in a few minutes before shampooing. It is extremely crucial to rinse the product out precisely.
Summary:
POSITIVES:
longer hair even up to 2 inched within a month,
strengthening, thickening and extension of hair,
natural plant oils,
very efficient formula.
NEGATIVES:
animal origin oil in the composition,
for scalp only,
might dehydrate if applied on hair,
problems with application and removal of the product.