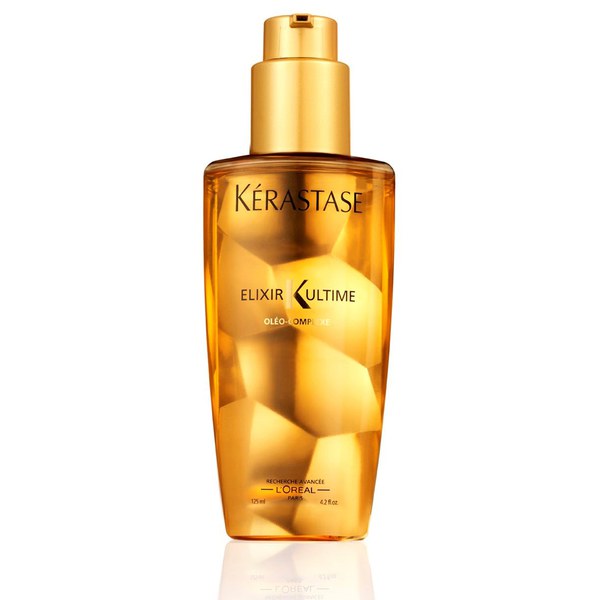 Kérastase Elixir Ultime is a care hair oil characterized by its universal application. Oléo-Complexe technology combines properties of four natural oils which protect and smooth hair, gifting all the strands with gloss. Kérastase oil is available in two versions – yellow for each hair type and green for weakened hair.
Pice: $55 /100 ml
Composition and working:
Both oils by Kérastase brand lean on Oléo-Complexe technology, which is a combination of natural oils' (corn oil, argan oil, pracaxi oil and camellias oil) properties that influence hair in a positive way. The compositions of both cosmetics are enriched with volatile silicone (Cyclopentasiloxane) which is responsible for moisturization, softening and smoothing of hair.
Additionally, Green serum Kérastase, Elixir Ultime Grand Cru, is enriched with fifth oil – Moringa tree seed oil which also known as 'the miracle tree oil'.
Corn oil – nourishes hair structure with fatty acids, vitamins (C, E and K) as well as other nourishing substances that make all hair roots significantly strengthened.
Argan oil – owning to carbohydrates, minerals and vitamins, the oil protects hair against damages and water loss. The same substances stimulate hair rebuilding processes.
Pracaxi oil – thanks to moisturizing lignoceric acid and behenic acid, which is able to protect hair fibre, hair resistance against damages is boosted.
Camellias oil (also known as Tea Tree oil) – it gifts hair with shine and smooths strands facilitating appropriate nourishment. What is more, the oil protects hair from UV radiation which, in turn, counteracts dehydration.
Moringa oil (only in Kérastase Grand Cru oil) – is perfect for moisturization, smoothing and restoring vitality of super damaged hair.
Formula:
CONSISTENCY – Kérastase products are oily serums of rather rare consistency and transparent formula. These do not run down from hair and can be used as additives combined with either hair masks or conditioners. Yellow version of Elixir Ultime might weight hair down which does not happen with the green version of the serum (its formula is lighter).
FRAGRANCE – Yellow Kérastase serum has slightly stifling yet pleasant scent (some describe the scent as exclusive). Green serum, in turn, has flowery and delicate scent. Both fragrances hold long on hair.
EFFICIENCY – Kérastase oils preserve their properties for 18 months since opened. Certainly, they can be described as effective since only small amount of the cosmetic is required for single application. For that very reason, some women might find it difficult to use the serums entirely before the expiration date. And this task will be even more demanding when the product is used for hair ends nourishment only.
Manner of use:
Kérastase Elixir Ultime is a product that can be applied many ways. The producer recommends three methods, each of which produces slightly different effects.
For better combing and styling – the serum has to be applied on slightly damp hair (towelled hair).
On set hair, for more shine – just small amount of the oil should be applied on hair in order to define curls, waves of straight strands.
For everyday care, for protection, nourishment and smoothness – one or two dosages of serum has to be rubbed into scalp and hair, before or after shampooing.
Summary:
POSITIVES:
complex of natural oils,
pleasant and long-lasting fragrance,
moisturization, nourishment and strengthening of hair,
for normal to damaged hair,
various manners of application,
handy and elegant package.
NEGATIVES:
too short period of use in comparison to the efficiency,
might weight hair down,
contains silicone.