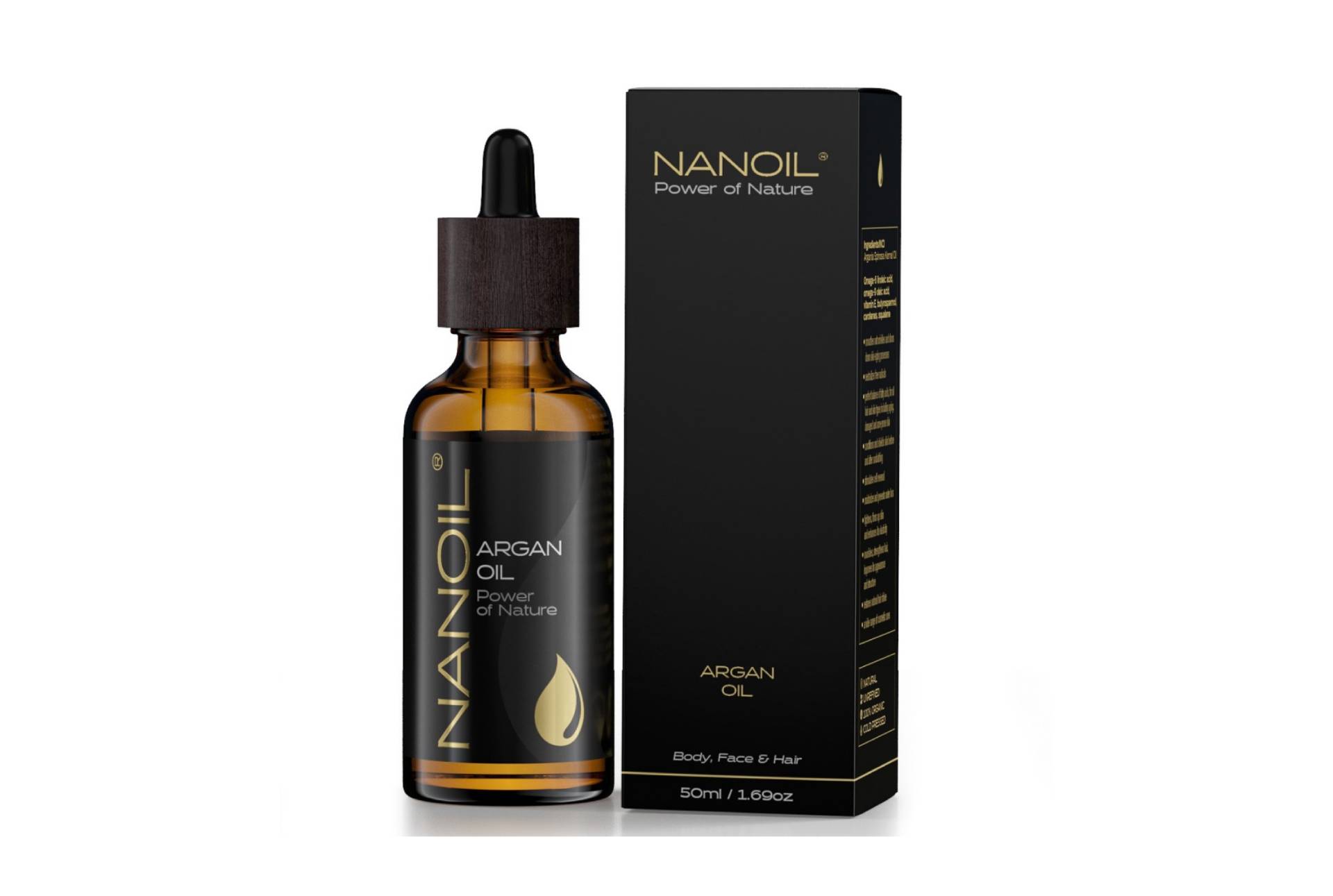 The power of natural oils lies in their origin – products like Nanoil Argan Oil are a concentrated source of the best nourishing substances taken straight from nature. There is no better cosmetic to serve our hair, body and face skin so well (note: this multi-tasking is a quality entirely typical of natural oils). Keep reading to learn more about Nanoil Argan Oil.
Capacity: 50 ml
Composition and working:
This dark and elegant bottle hides 100% argan kernel oil that is cold-pressed, unrefined and certified. And this is where the list of ingredients ends – this beauty oil isn't enriched with any preservatives, parabens, synthetic aromatic compounds, colorants, or silicones. Instead, each drop of this oil offers maximum dose of nature – EFAs (essential fatty acids), vitamin E, carotene, phytosterols, squalene and natural UV filters. This is what gifts argan oil with so remarkable properties.
Natural Argan Oil by Nanoil, providing that applied regularly, beautifies in a truly remarkable way:
delays ageing processes
maintains the adequate level of hydration
is gentle to sensitive scalp
protects hair ends from splitting
ensures sun protection
reinforces hair bulbs and slows down hair loss
intensifies softness and healthy shine
increases bounciness and makes hair more damage-resistant
is a potent heat protector
eases hair styling
Nanoil Argan Oil
Perfect for damaged hair, brittle fingernails and mature skin. More information on the oil's properties can be found on the official website.
Formula:
CONSISTENCY – Nanoil Argan Oil is a lightweight and fast-absorbing oil that neither intensifies greasiness nor weighs hair down (doesn't overburden skin either). What it does instead, it embraces hair with a sheer occlusive layer that protects the strands against losing water and aggressive external aggressors.
FRAGRANCE – this product has typical for natural and organic argan oil fragrance. It's subtle and for some people it may resemble nutty aroma.
EFFICIENCY – one bottle of Nanoil Argan Oil allows to undergo a several-month hair and body treatment. Such a high efficiency is owed to the fact that you need to use no more than just a few drops of the oil to condition any body part you want. The oil is incredibly easy to distribute on hair and skin.
Manner of use:
There are many ways in which Nanoil Argan Oil can be used, each being equally effective. With its help you can carry out complete hair oil treatment (both hot and regular), as well as scalp oil treatment. When applied in small portions, it has more of a protective function – shields against sun and heat styling. What's important, Nanoil Argan Oil shall be recognized as a natural alternative to conditioners, masks and lotions, yet it can be also combined with other natural oils (find the offer for the beauty oils on nanoil.us) and used as a base ingredient for creating homemade beauty products.
Summary: 
POSITIVES:
is cold-pressed and unrefined
is entirely made of 100% argan oil (no extra substances added)
can be applied to hair and skin (face and body)
conditions from the inside and outside
nourishes, maintains hydration and regenerates
displays rejuvenating properties
can be used in various ways
is found perfectly suitable to be used instead of regular drugstore beauty products
NEGATIVES:
available in one size only
the glass bottle is heavy and may break if dropped