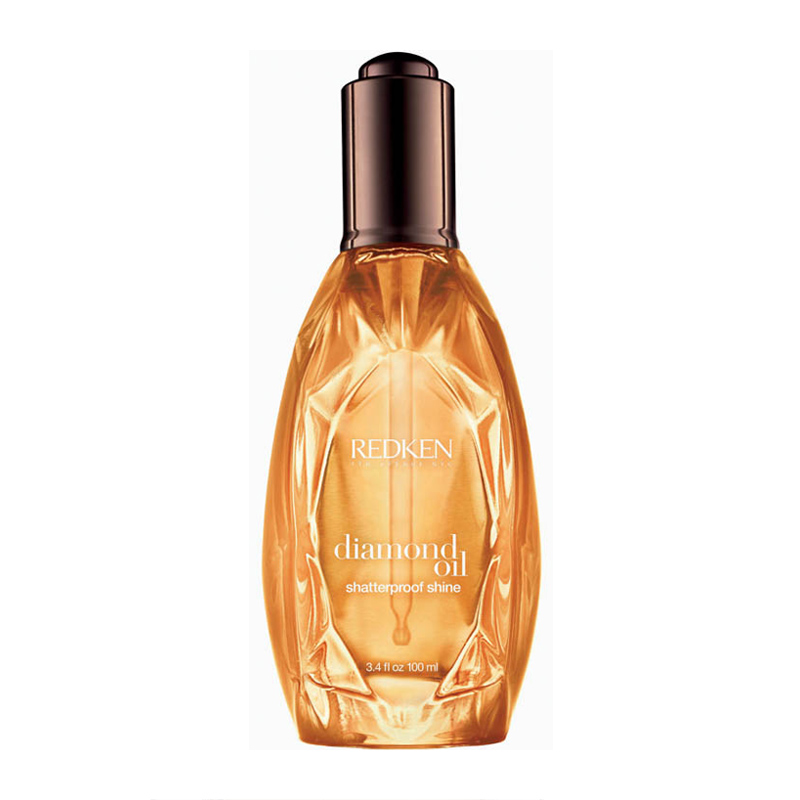 Redken Diamond Oil is an oily hair care cosmetic available in two versions – the producer closed oil destined for normal to delicate hair type in a gold bottle, whereas black-bottled oil is designed for not manageable hair. Diamond Oil by American brand Redken is a combination of a few concentrated oils of intensively glossing features.
Price: $40 / 100 ml
Composition and working:
Professional products from Redken, Diamond Oil were created thanks to modern technologies providing complex hair care – maintaining acid-base balance, nourishing hair structure with proteins and moisturizing ingredients, which hair is naturally made from. Moreover, Redken Diamond Oil contains so-called 'Shine Complex Stron' which is a combination of three natural oils (apricot seed oil, linseed oil and coriander oil) with polymers.
Both hair oil treatments are silicone-free.
Apricot oil – moisturizes well, smooths hair and gifts strands with velvet and multi-dimensional shine – all due to Omega-9 acids.
Linseed oil – eliminates problem of hair loss, accelerates hair growth, nourishes and reinforces hair structure due to E vitamin and Omega-3 acids.
Coriander oil – strengthens, regenerates and facilitates hair growth because of minerals (i.e. potassium, calcium, manganese, iron and magnesium), folic acid, beta-carotene and vitamins (i.e. C, A, K, PP, B2).
Formula:
CONSISTENCY – hair oils by Redken have standard oily consistency which might weight some types of hair down. Application of appropriate amount of the cosmetic provides good absorption of the oils without the unwanted effect of greasy hair or the necessity of rinsing off the product.
FRAGRANCE – Diamond Oils by Redken have pleasant scent of medium intensity. The fragrance holds on hair even after rinsing the product off.
EFFICIENCY – the products are closed in elegant bottles with droppers. Such an applicator increases efficiency even when applied frequently.
Manner of use:
Redken Diamond Oil can be used in many different ways as it can be reapplied at need, with no limitations. In fact, the producer recommends five manners of putting on the product:
on dry hair, a few minutes before shampooing,
on damp or dry hair right before going to sleep (leave the cosmetic on overnight),
either on damp or blow-dried hair (right after shampooing),
directly on scalp,
as an additive to mix with a hair mask or a conditioner.
Summary:
POSITIVES:
moisturizes and smooths intensively as it gifts hair with gloss,
reinforces hair and protects it from damages,
silicone-free formula,
closed in an elegant bottle.
NEGATIVES:
might weight down some types of hair.