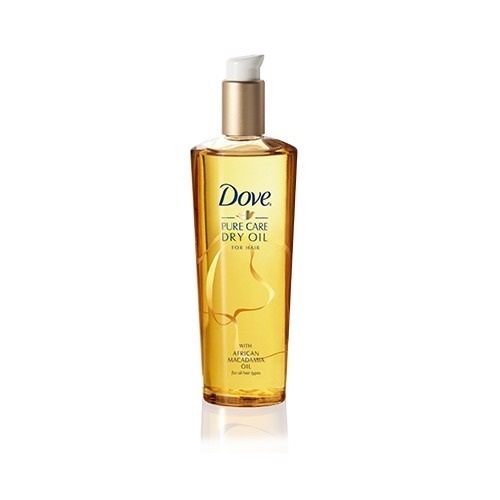 Pure Care Dry Oil by Dove (a component of Advanced Hair Series) is a light oil designed for all hair types. The main aim of the treatment (includes macadamia oil) is nourishment, moisturization and restoring smoothness to hair.
Price: $40 / 100 ml
Composition and working:
Complex care delivered by Dove Pure Care Dry Oil is provided by innovative technology and natural nourishing ingredients (complex of six plant oils), which satisfy needs of each hair type.
The composition of Dove oil is enriched with UV filter the aim of which is to protect hair from harmful working of solar radiation.
Macadamia oil – regenerates hair, nourishes, smooths, softens and gifts strands with elasticity thanks to unsaturated fatty acids, minerals and vitamins.
Coconut oil – nourishes intensively, moisturizes deeply and rebuilds structure of damaged hair.
Almond oil – moisturizes and relieves irritations. Due to nourishing substances (i.e. minerals, proteins and A, E, D and B vitamins) the oil is able to protect hair cells from aging.
Sunflower oil – strengthens, moisturizes and boosts hair volume. Additionally, it is responsible for restoring natural, healthy shine to strands.
African Palm Tree oil – moisturizes, tones, smooths, nourishes and has anti-oxidant features. All thanks to beta-carotene, Q10 coenzyme as well as A and E vitamins.
Pomegranate seed oil – stimulates collagen production, protects sensitive scalp and structure of hair as it makes hair elastic again.
Formula:
CONSISTENCY – golden Advanced Hair Series Oil has a liquid, delicate consistency. This light formula does not weight hair down as it provides non-greasy finish.
FRAGRANCE – Pure Care Dry Oil has characteristic, intensive aroma. Actually, the scent can be described as citrus and flowery perfumes yet not everyone might be content with the very scent. The truth is, the scent does not hold on hair long.
EFFICIENCY – Dry Oil by Dove is a medium efficient cosmetic. Two pumps is just right amount of the product to coat medium-length hair. Furthermore, consumption of the oils can be monitored due to transparent package.
Manner of use:
Alike other hair oils, Dry Oil by Dove Advanced Hair Series can be applied in many ways. It facilitates strands nourishment if put on right before or after shampooing. Keeping the moisturization on appropriate level is possible due to massaging the oil into damp or towelled hair (right after shampooing). Pure Care Dry Oil might be also used as a product enhancing work of other hair care products (suffice to add several drops of the cosmetic to a conditioner or a hair mask).
Summary:
POSITIVES:
complex of natural oils,
easy application,
various manners of use,
aesthetic and functional package.
NEGATIVES:
contains silicones and paraffin.