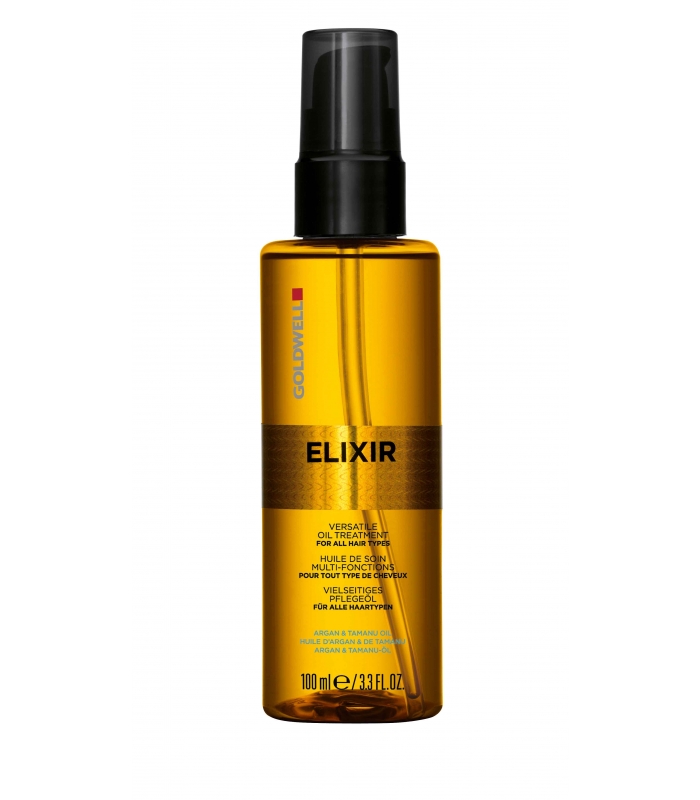 Goldwell Elixir is a treatment that provides moisturization, regeneration and gloss to hair in need. This versatile argan oil is enriched with Tamanu extract. The serum is suitable for every hair type and has wide application.
Price: $30 / 100 ml
Composition and working:
Elixir Goldwell is rich in nourishing substances and vitamins. Its composition bases on two plant oils: regenerating oil from Moroccan argan tree as well as protective extract from Polynesian tree called Tamanu. Additionally, Goldwell Elixir also contains insoluble silicone (Phenyl Trimethicone) which gifts hair with softness and smooths strands. What is more, the substance is characterized by highly protective features.
Despite the already-enumerated ingredients, the cosmetic contains also pure tocopherol (widely-known as E vitamin) and UV filter.
Argan oil – deeply replenishes moisture and regenerates hair structure due to E vitamin and essential unsaturated fatty acids. Furthermore, argan oil is able to protect hair against destructive working of UV radiation, neutralizes free radicals and makes hair more elastic.
Tamanu oil (also known as Bora Bora oil or Kamani oil) – nourishes hair from inside out, moisturizes and protects hair thanks to anti-oxidants. Moreover, the oil has easing features.
Formula:
CONSISTENCY – Elixir Goldwell is a weightless hair oil which is absorbed almost immediately. It produces easy-to-notice effects just after the first use. Again, the product does not weight hair down, neither clumps hair together nor leaves hair greasy.
FRAGRANCE – Goldwell Elixir is characterized by very pleasant and delicate scent which lingers on hair up to several hours.
EFFICIENCY – the producer claims that a 100-mililitre package covers approximately 85 applications. Taking into consideration frequency of use and comparing it to the number of applications provided by other similar products, Goldwell Elixir is not as efficient as one might expect.
Manner of use:
It is not necessary to rinse off the hair oil by Goldwell once applied. In fact, there are two manners of putting on the product, and each of the techniques produces different effects. If applied on damp hair (for example, towel-dried hair) the oil smooths, adds shine, eases combing as it protects against thermal and mechanical damages (while styling). If put on completely dry hair, Goldwell Elixir provides smoothness, shine and frizz controlled look as it defines colour of strands.
Summary:
POSITIVES:
combination of natural plant oils,
moisturization, regeneration, smoothness, shine and protection,
for all hair types,
weightless formula,
elegant and functional package.
NEGATIVES:
medium efficiency,
contains silicones.