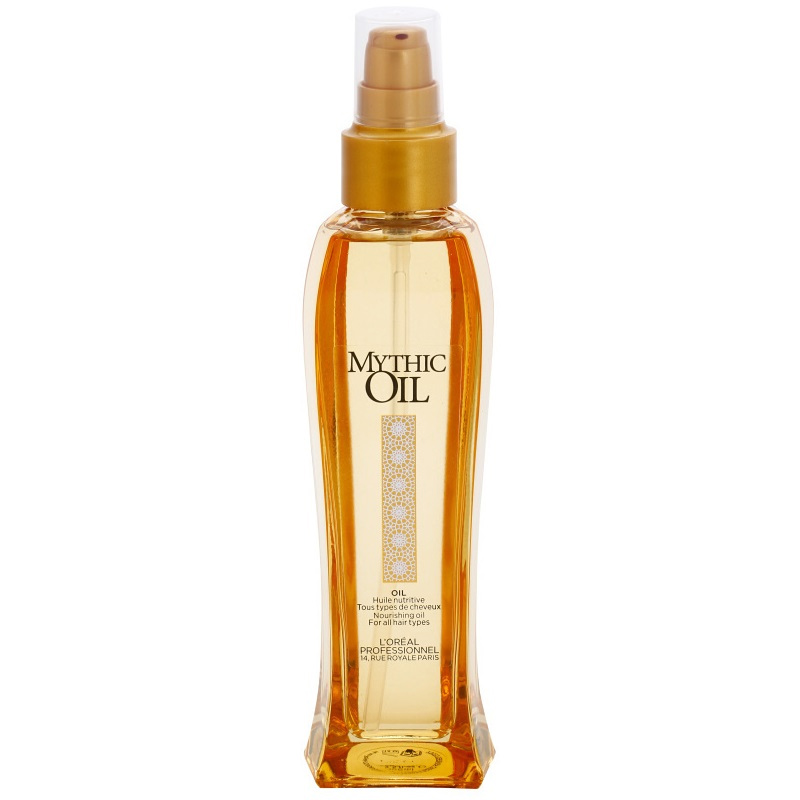 Owning to natural oils, the collection of L'Oréal Paris Mythic Oil provides nourishment, smoothness and brightening of each possible hair types. It is available in four versions: Nourishing Oil (universal), Shimmering Oil (brightening), Rich Oil (for dry or hard-to-tame hair) and Colour Glow Oil (for dyed hair).
Price: $25 / 125 ml
Composition and working:
Formula of hair caring oils from L'Oréal Mythic Oil Nourishing Oil provides appropriate nourishment of hair thanks to the ingredients included into natural oils' composition (avocado oil and grape seed oil).
Despite the natural oils, L'Oréal Mythic Oil contains also silicones and alcohol.
Avocado oil – highly nourishes, regenerates and strengthens natural protective barrier thanks to the composition rich in fatty acids (Omega-3 and Omega-9), minerals (magnesium, manganese, phosphor, potassium, sodium and zinc) as well as vitamin complex (A, E, C, D, K and B).
Grapeseed oil – smooths, moisturizes as it makes hair more elastic and manageable thanks to unsaturated fatty acids, E vitamin, A vitamin and B6 vitamin as well as minerals.
Formula:
CONSISTENCY – L'Oréal Mythic Oil is a product of liquid and oily formula which is light enough not to make hair greasy nor weights hair down. The oil is fast-absorbing and penetrates hair structure well – this are the very features providing beneficial working of the cosmetic.
FRAGRANCE – universal oil Nourishing Oil from L'Oréal Mythic Oil collection has pleasant, delicate scent that might remind aroma of spring flowers. Although the fragrance is intensive, it does not hold long on hair.
Manner of use:
Hair oil from Mythic Oil collection is a product that is designed to be applied after shampooing as a kind of a booster facilitating styling and fixing of hair. Actually, the cosmetic can be put on either damp or wet hair (before styling) – this procedure is supposed to improve combability as it gifts hair with softness. What is more, L'Oréal hair oil is good at brightening dry hair, which requires a little bit of loading down and protection from dehydration.
Summary:
POSITIVES:
restores appropriate level of moisturization and nourishment of hair,
brightens, smooths, tames and makes hair more elastic,
light formula,
universal product (+ versions destined for various hair types),
elegant and handy package.
NEGATIVES:
pleasant scent is fast to fade away,
contains silicones and alcohol.