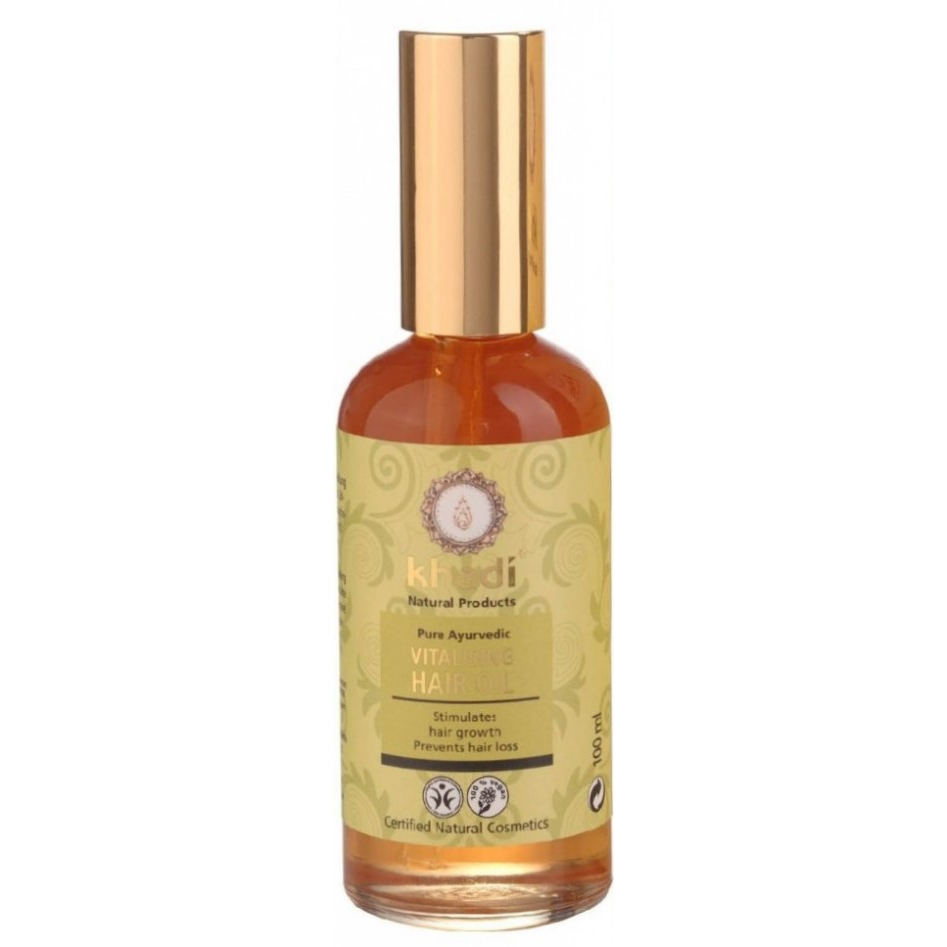 Natural and ecological (proven by BDIH) herbal oil stimulating hair growth is an effective product developed by Khadi Natural Products brand. Khadi Vitalising Hair Oil's task is to strengthen and nourish strands, counteract hair loss and greying as it is expected to stimulate hair to grow.
Price: $35 / 100 ml
Composition and working:
Vitalising Hair Oil by Khadi brand owns its beneficial working due to natural and precisely developed composition. This hair-growth stimulating Khadi oil is based on three oils (sesame blossom oil, coconut oil and castor oil). What is more, the product is enriched with a few additional plant extracts.
The secret of the oily serum by Khadi lies in the best herbal ingredients.
Sesame oil – nourishes hair from its roots to the very ends, facilitates hair growth, counteracts greying and protects from UV radiation.
Coconut oil – nourishes, takes care and perfectly moisturizes hair due to saturated and unsaturated Omega-3 and Omega-9 acids.
Castor oil – accelerates hair growth due to hair root stimulation, relieves irritations, moisturizes and rejuvenates hair cells. This beneficial working is possible thanks to high concentration of fatty acids.
Rosemary oil – counteracts hair ageing processes, has disinfecting features, relieves irritations and eliminates problem of dandruff and infections.
Carrot seed oil – nourishes, moisturizes and regenerates hair structure because it is rich in beta-carotene, fatty acids and vitamin complex (A, B, C, E and F).
Amala oil (extracted from Indian gooseberries) – strengthens hair from its roots, gifts strands with shine, protects from scalp infections and eliminates typical hair problems such as hair loss, greying, split ends and dandruff.
Bala oil (extracted from Sida Cordifolia – an Indian plant) – strengthens hair and supplies strands with vitality.
Bhringraj oil – nourishes scalp, eliminates hair loss and greying as it turns hair into being more manageable. What is more, the oil prevents split ends and gifts hair with shine and softness.
Brahmi oil – gifts hair with elasticity and facilitates hair growth.
Formula:
CONSISTENCY – Khadi hair growing oil has oily and liquid formula. The product might clog scalp pores as it may weight hair down if applied unskilfully or when not rinsed thoroughly.
FRAGRANCE – Khadi Vitalising Hair Oil has intensive, highly exotic and herbal scent because of Indian oils of very tang, incense scent. The aroma of Khadi is neutralized by base oils of natural scent. Nevertheless, the Orient note is still easily noticeable.
EFFICIENCY – Formula of Vitalising Hair Oil from Khadi is extraordinarily effective despite the pipette. The product is expected to cover a several-month treatment (if applied regularly).
Manner of use:
Khadi Vitalising Hair Oil is designed mainly for massaging it into scalp. Actually, it can also be applied directly on hair. The product requires rinsing-off.
Summary:
POSITIVES:
stimulates faster hair growth,
nourishment, strengthening and condition improvement,
eco-friendly product proven by BDIH,
entirely natural and herbal composition,
includes Indian plant extracts.
NEGATIVES:
intensive, highly Oriental fragrance (might be perceived as an asset),
hard-to-wield applicator,
might clog scalp pores.